I've decided to feature an artist of the week
, whether it be a photographer, model, music artist, fashion designer, graphic designer..features all fields of art. This week's feature is on marvellous fashion photographers Mert Alas and Marcus Piggott who work as a team.
I often buy fashion magazines and have admired much of their work without realizing it, especially their ad campaigns! Today I've learnt the people behind the camera and they have certainly made an impression on me. It's amazing how they can manage to work as a team and create such mind-blowing beautiful photographs. Their style changes from picture to picture depending on the client but I certainly know that the words 'extravagant' and 'awesome' can be described for every photo they do. I especially love their vibrant works of art such like the Dsquared2 S/S 10 campaign however they do create beautiful monochrome portraits like the Georgio Armani F/W 09 & S/S 10 (see below).
Ad campaigns they've done include:
Georgio Armani, (Cristiano Ronaldo, David & Victoria Beckham)
They've worked with models the likes of Eva Mendes, Madonna, Kate Moss, Lara Stone, Daria Werbowy, Natalia Vodianova ,Julianne Moore, David & Victoria Beckham, Gisele Bündchen, Björk,
Scarlett Johansson, Kylie Minogue, Sophie Ellis-Bextor, Jennifer Lopez, Megan Fox, Naomi Campbell.. to name a few.
And their client list is pretty impressive working for magazines such as W,
Love, (Kate Moss, Nami Campbell, Kristen Mcmenamy, Amber Valletta, Natalia Vodianova, Daria Werbowy, Jeneil Williams, Lara Stone)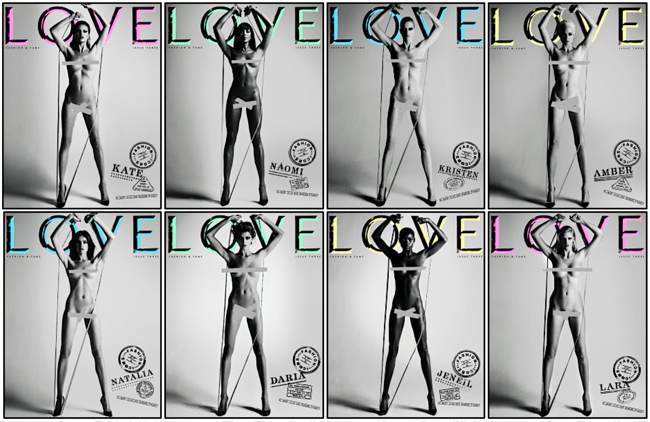 I-D, Vogue Paris, Vogue Italia, Vogue USA, Vogue Russia, Numero, Arena Homme Plus, Vanity Fair, V...
All in all, it looks like they're dominating the fashion industry with their images plastered on giant billboards and gracing many fashion magazines whilst working with top models, it's a wonder how I haven't heard of them until today!
I shall certainly be getting inspiration from Mert & Marcus for future fashion shoots.
Thank you, you're awesome photographers!!