Matt Bomer doing the 'Clark Kent' look
So I was getting my daily gossip feed from http://justjared.buzznet.com/ and came across the handsome face of Matt Bomer, 32. I was compelled by his piercing blue eyes, curvy brunette hair and the bold thick framed glasses which seems to still be a hot trend this summer. At first I thought it was 'Clark Kent!' then realized it was the guy from US TV series, 'White Collar' and 'Chuck'.
Due to my increasing curiosity to who this dashing Clark Kent lookalike was, I Googled him (I'm not advertising search engine preference, it's just a common phrase which happens to be the search engine I use!). I found out that he actually was due to play Clark Kent for the Superman reboot, 'Superman Returns'! It is no wonder that I instantly identified him as Clark Kent.
I then went back to
http://justjared.buzznet.com/photos/matt-bomer/ and realized that the thick framed glasses look is turn on and certainly gives the sexy nerd look that I'm loving at the moment. Clark Kent has certainly brought back a trend to love!
Talking about the 'Clark Kent' trend, here's a shot of Tom Welling who plays Clark Kent for the US TV series, Smallville, wearing those statement glasses in the show:
Tom Welling playing Clark
Kent in Smallville
Tom Welling has also done a fashion shoot called 'Making Headlines' with
Maryna Linchuk
photographed by Steven Meisel inspired by Clark Kent for
Vogue.
The scene where Lois Lane puts on Clark's glasses (here the roles are reversed)
And for the original Clark Kent, Christopher Reeve (bless his soul!):
Robert Buckley from One Tree Hill Simon Baker from The Mentalist
Jay Z Chris Brown
(his lips are really pink?)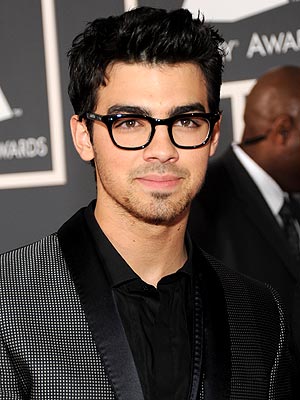 Aaron Tveit in Ugly Betty Joe Jonas
Colin Firth in Tom Ford's, A Single Man Nicholas Hoult for
(60's hot trend re-invented)
Tom Ford Eyewear S/S 2010
So I'm certainly loving this new nerdy trend and wish I could pull off with sex appeal! Of course, it's not just the guys who have embraced this hot new trend. The girls look equally as sexy and sophisticated in these 'Clark Kent' rimmed glasses. Part II of this entry coming soon for the sexy females and ultra cool nerdy glasses!
So do you think this is HOT or NOT?